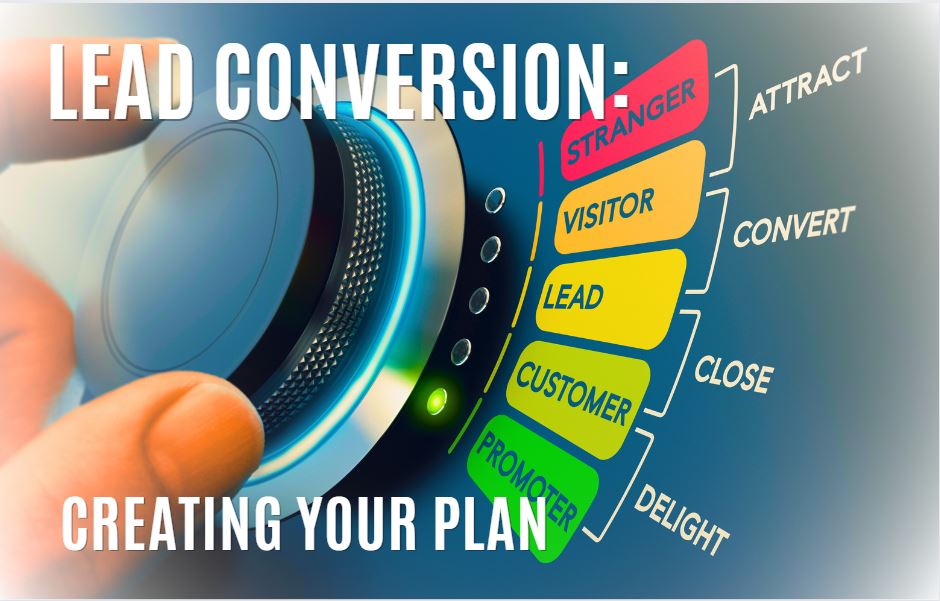 7 Steps to Creating a Lucrative Lead Conversion Plan
Have you taken a serious look at your lead conversion plan, lately?
You should.  Without a well-crafted lead conversion plan, your revenue will be unpredictable, at best.  However, optimizing your lead conversion is THE KEY to growing and sustaining your bottom-line revenue.
Yes, I know. That's a bold claim for such a vague term but understanding "how" will transform the financial health of your business.
The more leads that you convert into paying clients, the higher your revenue and profits…and the healthier your bottom-line. However, it's not always easy to turn leads into customers. In this blog post, we'll discuss some tips and strategies to optimize lead conversion.
1. Clearly Define Your Ideal Customer (customer Avatar)
Before you can optimize lead conversion, you need to know exactly who your ideal customer is. This means understanding their most important pain points, desires, and goals. By clearly defining your ideal customer, you can tailor your messaging and marketing efforts to resonate with them.
2. Take Advantage of Lead Magnets
Since roughly 79% of your leads will check you out online before contacting you, your website's ability to capture and engage qualified leads is not optional.
Irresistible lead magnets such as checklists, assessments, ebooks, lost leader services, and clear calls-to-action provide value in exchange for lead's contact info. By providing free value upfront, you build trust and credibility with your leads, making them more likely to convert.
3. Qualify and Nurture Your Leads
Not all leads are qualified. And of the qualified leads, not all are ready to buy right away. Some may need more time to evaluate and be convinced of your product or service. Keeping up with those leads manually isn't easy. That's why lead nurturing is essential. By sending targeted emails, offering helpful resources, and checking in regularly, you can keep your brand top of mind and build trust over time.
Nurturing qualified leads also increases the chance that they will take the next step and show up for scheduled appointments.
4. Provide Social Proof
Recommendations from family and friends trump all other consumer touchpoints when it comes to influencing purchases (Ad Age). Social proof convincingly demonstrates that others have already had a positive experience with you. Customer testimonials (especially video testimonials), case studies, and reviews on your website and social media channels are extremely effective at providing social proof.
5. Flawless Follow Up with Active Prospects
Once your leads "raise their hand" to become active prospects, your sales follow up is key to converting your leads into paying clients. You want your follow up to be flawless, consistent, relevant, and very personal…and certainly not left up to memory or chance.
6. Measure and Analyze Your Results
Knowledge is power – especially when it comes to making informed decisions. You must measure and analyze stats like ROI, intermediate conversion rates, stalled leads, and gestation continually. This means tracking your conversion rates, testing different strategies, and adjusting your approach based on what's working and what's not.
7. The Game changer:  Automate Your Lead Conversion
You can put together the best-laid lead conversion plan, but if you can't execute on it, you won't see the results you want. 
Automation is the clincher to your success.  Automating your sales and marketing process from end to end standardizes your results, increases your "speed to lead", and eliminates human errors. 
Automation moves the lead conversion needle from manual to systemized.  It transforms your results from random to certain.  And it turns your lead generation efforts into a predictable revenue machine.
The easiest and most economical way to increase your bottom-line revenue is to close the greatest number of your qualified leads. By refining your lead conversion steps and automating the end-to-end process of converting leads into prospects and then into clients, you will grow and sustain your revenue goals.
Are you ready to create a lucrative, automated lead conversion plan?
If you're serious about maximizing your lead conversion plan, Advantage Anywhere will automate your entire end to end process from lead to prospect to client.
Unleash your true revenue advantage with Advantage Anywhere. Generate qualified leads. Nurture and educate them effortlessly. And advance the sale with a sales assistant.
Close more move-ins, buyers, and clients faster, easier, and with less manual work.
Increase revenue. Lower cost of sales acquisition.
If you feel like you more and you demand better lead conversion results, you need a real advantage!
Download the Free Guide: 25 Ways to Grow Revenues Without Adding Staff. It has valuable practical tips and strategies to grow revenue without adding staff.
Learn more at AdvantageAnywhere.com or request a complimentary Executive Strategy Session.
For a free Executive Strategy Session, go here