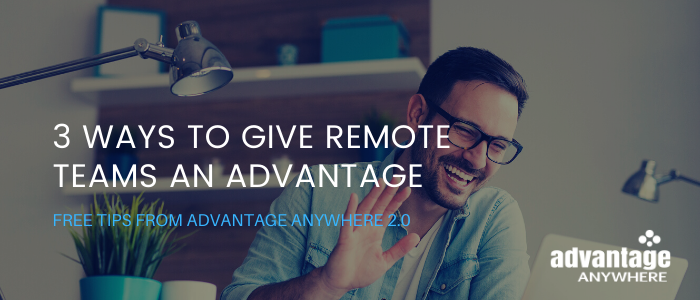 3 Ways To Give Remote Teams An Advantage
Remote workers are not going away. In fact, remote work is becoming the norm – especially within sales and marketing departments across the country and across the world.
The advantages of remote workers are many (and sometimes born out of necessity) but there are also very real challenges in managing and motivating remote workers.
If we can honestly and successfully address the struggles of remote workers and managers, we can make remote work productive, effective and a win-win for everyone!
Let's start by identifying the top struggles of both remote workers and their managers.
Top Struggles of Remote Workers:
19% – loneliness
17% – collaborating and/or communication
8% – staying motivated
8% – different time zone from team
Top Concerns of Managers of Remote Teams:
82% – feared Reduced Employee Focus and Productivity
75% – feared Reduced Team Cohesiveness
70% – feared Maintaining Company Culture
Fortunately, many if not all of these struggles can be overcome with simple solutions. I'd like to share some of the tips that we've used (and you can use) to motivate and manage remote teams successfully.
Communication – in various iterations – is the number one challenge when working remotely.
Whether it's one-way or two-way communication, people feel disconnected without consistent communications. And for some people, lack of communication can cause people to assume the worst and even create problems or issues in their mind that may not even exist.

One example would be the manager who doesn't hear from an employee may assume that they aren't working, aren't being productive, or aren't motivated. That scenario taken further doesn't typically end well for the employee or the company.
HIRED did surveys with remote workers and managers. Although eye opening, you probably won't be shocked by some of their findings.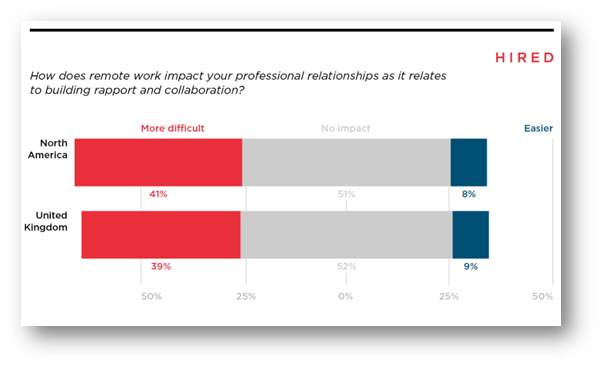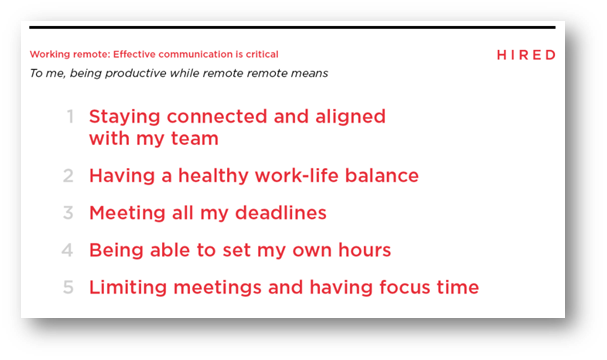 One thing we do every day to make sure everyone is connected, accountable and appreciated is our video morning meetings. Each department head is assigned a day of the week and leads the meeting, including a piece of inspiration (of their choosing) and an opportunity to go around the "table" to share their goals, wins, and kudo's for the day. It's also an opportunity to ask questions, identify anyone they need to connect with that day and provides a platform for discussion. Despite being in various states (and time zones), we've found it an excellent way to connect and build camaraderie virtually.
Advantage Anywhere also allows us to communicate instantly and easily in various ways.
One helpful tool is "@ tag mentions". When you "@mention" another user in a Contact's note, Advantage Anywhere notifies the mentioned team member of something they need to know instantly and effortlessly. Everything is documented in the note, and the right people get a message and link directly to that information. No need to call, email, or text someone to tell them information about a prospect or client.
For instant chat with another team member (or group of team members), the Internal chat lets you interact and chat with each other on demand.
Watch for more communications enhancements! In the near future, you'll also be able to video chat with a prospect or team member!
Management needs real time access to data 24/7 – anytime from anywhere – to make informed decisions.
Wherever you are – across town or across country – you want instant access to the information, history, and metrics you need to be knowledgeable and productive. With Advantage Anywhere, you can always input or access info from any device – laptop, iPad or cell phone.
Management data to make informed decisions is always at your fingertips.
Don't you love the ability to say "Hey Siri!"? Why type abbreviated notes when you can speak your detailed notes directly into your Contact's record? Or even navigate using only your voice to say "Find Betty White". Voice recognition is one of my favorite tools within Advantage Anywhere. It saves me time, and saves my fingertips!
Get notified of what's important. New leads! Upcoming appointments, and other important items pop up in a notifications icon at the top of Advantage Anywhere. This is how you stay on schedule, respond quickly and never miss a beat – even if you're the only one in your "office".
If you have sales and marketing folks who work across town or across the country, you can get an advantage in their efficiency, productivity and your management insights.
Find out how by scheduling a free Strategic Consult with an Advantage Anywhere coach today.