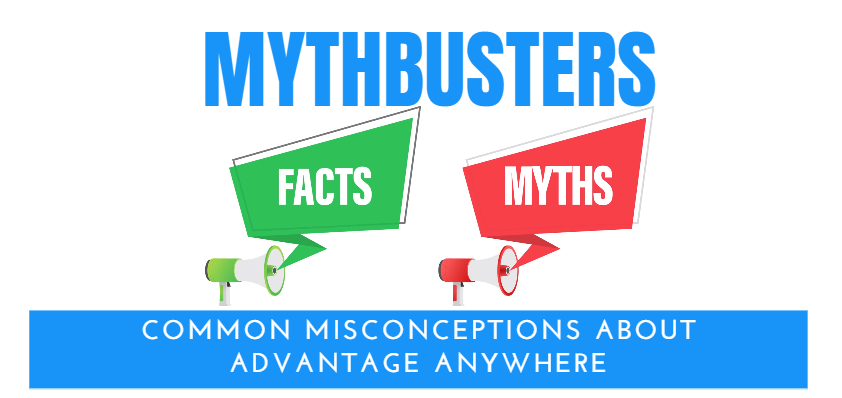 Myth Busters: Facts and Fiction about Advantage Anywhere
You've heard the buzz about Advantage Anywhere and maybe you've wondered if some of the things you've heard are accurate.
So we want to expose some myths and share actual facts about Advantage Anywhere that you might find helpful…let's set the record straight.
1. Is Advantage Anywhere only for single-site communities or can it support multi-site locations?
The truth is, Advantage Anywhere is great for single communities that want an all-in-one, lead-to-move-in automation system. But Advantage Anywhere truly shines in a multi-location, multi-site enterprise where management wants better systems; standardize processes, streamline workflows, provide branded marketing and communications templates, and analyze all activities, census, and ROI data at the micro level or macro level at will.
2. Is Advantage Anywhere only for assisted living or can it also support multiple service care levels at the same time?
The real beauty of Advantage Anywhere is that it can support one or many service levels at the same time, under the same umbrella, while letting you drill down into specific details and allowing you to create unique processes and automations for each care level.
3. How does Advantage Anywhere compare with CRMs in senior living?
Advantage Anywhere does include CRM but it also includes all the other marketing, lead gen, communication, and sales advancement functionality traditionally not found in CRM.
It is all-in-one so you don't need to buy or plug-in other, expensive, fragile apps to get your job done.
4. What makes Advantage Anywhere different from other CRM options?
It is true that the Advantage Anywhere platform is robust and includes an extensive set of tools, but the real success of our clients lies in 2 philosophical differences:
Philosophically, Advantage Anywhere is engineered to proactively advance the lead and sale, not an "electronic Rolodex" that can only tell you what happened after the fact. It's always about moving prospects through the customer journey.
The consulting, coaching, and white glove support from our client care team is the real game-changer for clients. You can get a gym membership (software) or get a personal trainer (coach/consultant). The results will be drastically different.
You are not buying software, you are engaging a team that works alongside you to give you a true advantage in your marketplace.
5. I heard that Advantage Anywhere does not integrate with third-party tools such as billing and patient care. Is that true?
That is a common misconception that we have heard. The truth is, Advantage Anywhere has an open API that integrates with all the common back-office solutions and has the potential to integrate with any platform open to it. There has never been an integration that Advantage Anywhere was unable to successfully accomplish.
6. I haven't seen much of Advantage Anywhere at conferences and tradeshows. Is it new?
The first half is true. Advantage Anywhere has focused all of its resources and energy on developing a rock-solid, robust, proven platform. We have traditionally grown through referrals and not through conferences. The Advantage Anywhere platform stands on its own. You get depth and results, not a sales pitch.
7. Is Advantage Anywhere investor-owned or answer to investors?
No. Advantage anywhere is privately owned, independent, and driven only by our clients' needs and success. We don't answer to any investors – only you.
If you feel like you more and you demand better results in 2023, you need a real advantage!
Download the Free Guide: 25 Ways to Grow Revenues Without Adding Staff. It has valuable practical tips and strategies to grow revenue without adding staff.
ommunities, or international communities by treating them uniquely, and delivering you actionable analytics on the enterprise level.
Learn more at AdvantageAnywhere.com or request a complimentary Executive Strategy Session.
For a free Executive Strategy Session, go here now.